Engineered to help you achieve optimal fusion with the gold standard in bone graft
The COREX minimally invasive bone harvester is engineered to help you consistently deliver optimal patient outcomes.
Harvest autologous bone
faster, easier, and safer.
The Gold Standard
in Bone Graft 
Cancellous autograft is recognized as the gold standard for grafts based on its osteogenic, osteoinductive, and osteoconductive properties.
Harvest sufficient autograft for many 1 & 2 Level fusions with COREX's "multi-pass" capability and reduce the need for bone filler additives.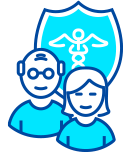 A Minimally Invasive Solution to Help Improve Patient Outcomes
Every aspect of COREX is designed to improve patient outcomes.
A minimally invasive technique combined with COREX helps address the traditional issues that contribute to harvest site morbidity including incision size, soft tissue stripping, and cortical disruption.
Reduce Procedure
Time and Associated Costs
Quickly and easily harvest autologous bone without additional tools or technologies and reduce the need for expensive synthetic or allograft substitutes.
Historically, surgeons may have avoided
autograft due to donor site pain associated with a traditional approach.
The COREX minimal invasive bone harvester was engineered to solve this—and more.
Single-Use
Integrated Device
The COREX system is an all- in-one MIS design that does not need sterilization or assembly.
It comes out of the single-use box ready to use.
Fast to Learn, Easy to Master
Simplicity of use, integrated components, and safety features all combine to make the COREX one of the fastest and easiest bone harvesters to master.
When used appropriately, the procedure can take 5 – 7 minutes. Faster means better patient experience.
Start With the Gold Standard
Despite the expanding array of bone allograft products over time, autogenous bone graft remains the gold standard and retains superior healing capacity.
Trusted by Leading Spine Surgeons and Healthcare Systems
"I have had the pleasure of using the COREX bone harvester many times. This instrument has allowed me to harvest large amounts of bone from the medial proximal tibial area using a less than one cm incision for the treatment of various nonunions.
The instrument is ingenious and efficient! The most amazing thing is that when I see the patients back for their one-week follow-up appointment they are usually happy and pain-free! Great instrument!"
How the COREX bone harvester works
COREX is the all-in-one MIS system designed to harvest, capture and deliver autologous bone with one simple mechanism.
Watch to learn how COREX was engineered to help you minimize morbidity and procedure time while maximizing autograft volume.